MFBALL| Miramichi running b...
MFBALL| Miramichi running back, Jared MacDonald, joining Hurricanes this fall

by Mason Murray




Posted on

20 Jun 2019
---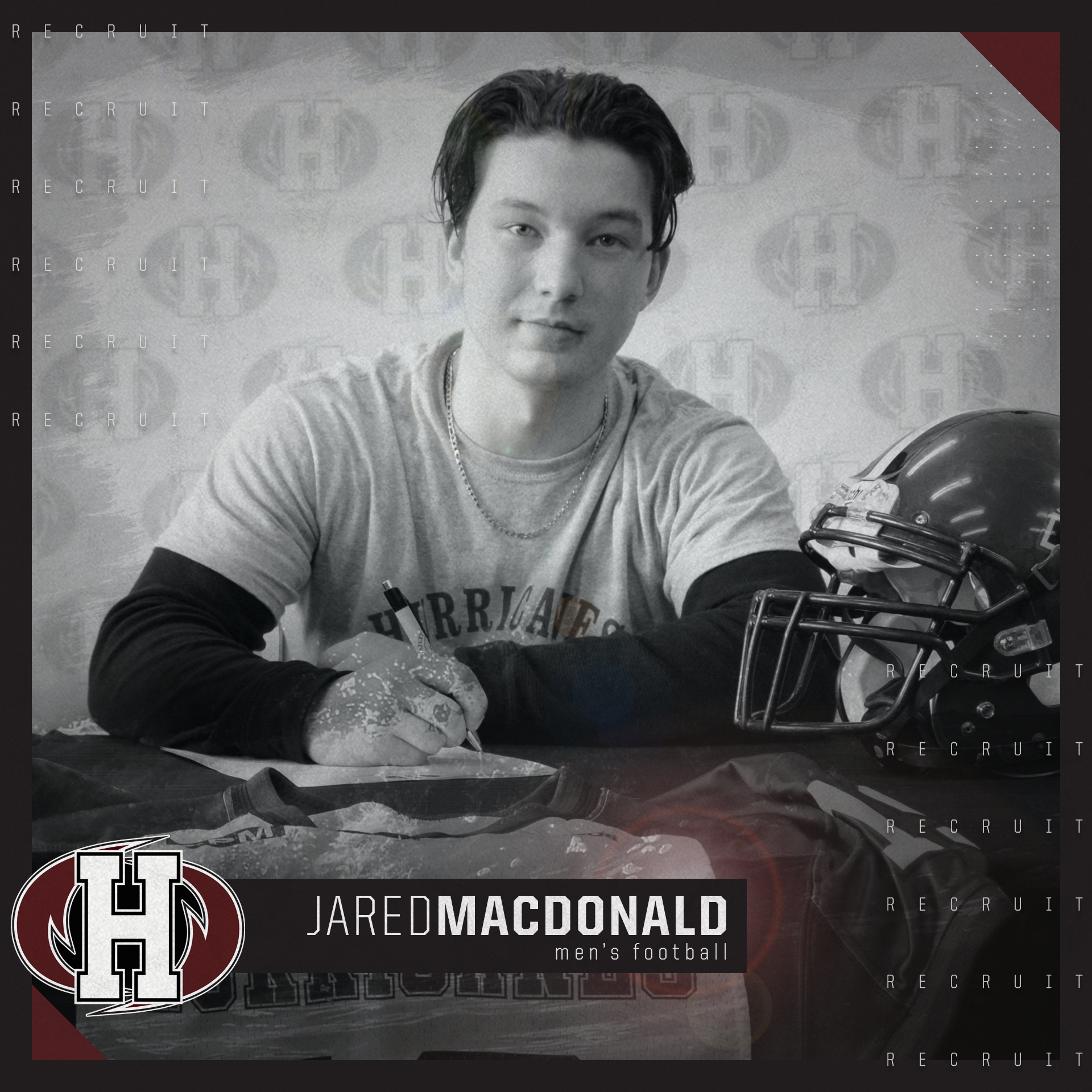 The Holland Hurricanes football team continues to prepare for the 2019 season with the addition of the newest member of the roster, Jared MacDonald.
MacDonald, a running back, will be joining the Hurricanes this coming season as he begins the Welding Fabrication program at Holland College.
"I was attracted to the culture and lifestyle of PEI, it's very similar to my hometown. I'm excited to begin the Welding Fabrication program and start developing my skills. The football team has a very welcoming, and positive atmosphere. They helped me feel like I can be a part of something bigger than myself as an individual."
MacDonald, who was originally born in Calgary, Alberta, comes to the Hurricanes from the James M Hill Memorial High School in Miramichi, New Brunswick, where he was a multi-sport athlete; in 2016 and 2017 he was the football team's most-valuable-player.
Macdonald hopes to continue this trend of success with his transition to the Hurricanes.
"I feel that I am a versatile player. I'm equally comfortable in the offensive or defensive backfield and I can bring a physical, bruising style of play that I feel matches what the Hurricanes are looking for."
Standing at 6'2" and 205 lbs., MacDonald was named a New Brunswick Interscholastic Athletic Association (NBIAA) All-Star in 2016 and 2017. He hopes that his first-year with the Hurricanes will be impactful, while he brings a positive attitude and looks at the opportunity to win as a team.
"I'm willing to do what it takes, on and off the field to help the Hurricanes win. That begins in the locker room with teamwork, unity and positive attitudes."
Hurricanes head coach, Steve Letner, is glad that things worked out and MacDonald will be wearing the Hurricanes uniform this fall.
"We are excited to add Jared to our roster. We were lucky to find him as he jumped off the page when we evaluated him at our Miramichi camp in March. Then after coming to our Spring Identification Camp in April, he made a great impression on our entire coaching staff. We see him making an immediate impact for us this season."
After attending the Hurricanes Spring Identification Camp in April, MacDonald was able to catch a glimpse of the Hurricanes style-of-play ahead of the 2019 Atlantic Football League (AFL) season.
"The Hurricanes will be a fast-paced, athletic team that will work as a unit and be well prepared to take on any competition this season."
The football Hurricanes kick-off their 2019 AFL regular season on Saturday, September 14 when they visit the University of New Brunswick (UNB) Red Bombers in Fredericton, NB at 7pm. The team will host their home opener on Saturday, September 21 at 1pm when they host the University of New Brunswick-Saint John (UNBSJ) Seawolves.
To connect with the football Hurricanes, visit www.facebook.com/canesmfootball, www.twitter.com/canesmfootball and www.instagram.com/canesmfootball.
For more information on the Holland Hurricanes, please visit www.hollandhurricanes.com, www.facebook.com/hollandhurricanes, www.twitter.com/hc_hurricanes and www.instagram.com/hollandhurricanes.