UNB Fredericton Red Bombers
---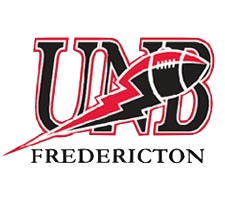 The University of New Brunswick Fredericton Red Bombers are a legacy of the first Red Bombers that began play in 1949 and continued until 1980 when the program was shut down. In that period the team won two Jewett Trophy conference championships in 1969 and 1970. The program also had 8 alumni play in the Canadian Football League (Tony Proudfoot, Mike Washburn, Stewart Fraser, Junior Robinson, Wayne Lee, Mike MacIntyre, Chris Skinner, and Phil Charron).
Since 1980 there had been several attempts to revive the Red Bombers and in 2008 it was announced that the team would be brought back as part of the newly formed Atlantic Football League. The return of the Red Bombers was made possible through support of the alumni, and in particular a large donation from the Pat Gillin family. In the first season of the AFL the Red Bombers won the league championship after a hard fought defensive game against the UNBSJ SeaWolves; final score 3 (a safety and a rogue) to 1 (a safety on a missed field goal).
The Red Bombers continue to operate as a healthy and vibrant team in the AFL.
---
Team Roster
| Number | Name |
| --- | --- |
| 2 | Calvin Chad |
| 4 | Mitch McCoy |
| 5 | Luke MacLeod |
| 7 | Travis Branscombe |
| 8 | Rakeem Medrano |
| 9 | Malcolm Baxter |
| 10 | Jesse Hazell |
| 11 | Logan O'Brien |
| 12 | Jake McKay |
| 13 | Coel Storey |
| 14 | Fergus Brydon |
| 15 | Liam Cameron |
| 19 | Sebastien Hebert |
| 20 | Jordan Scholten |
| 21 | Angus Van Wagoner |
| 22 | Turner Sturgeon |
| 23 | Marcus Urquhart |
| 25 | Alex White |
| 28 | Tyler Dixon |
| 31 | Eric Berry |
| 32 | Bailey Dwyer |
| 33 | Jacob Jurcina |
| 35 | Jarrett Tracey |
| 37 | Colten Little |
| 38 | Jean-Sebastien Beaulieu-Labonte |
| 40 | Matt Fagan |
| 45 | Adam Cogswell |
| 50 | Corey Eustace |
| 51 | Jacob Hanscom |
| 56 | Logan Silliphant |
| 59 | Daniel Brochu |
| 60 | Mike Mignault |
| 61 | Ryan Scholten |
| 62 | Darren Dennis |
| 63 | Tyler Duthie |
| 64 | Luke Saunders |
| 66 | Zach Geddas-Hardy |
| 81 | Bryn Davies |
| 84 | Kaleb Paget |
| 87 | Tyler Doiron |
| 90 | Leon Yarde |
| 92 | Jonah Rollins |
| 93 | Marc Doucette |
| 94 | Christian Sauter |
| 99 | Winston Leger |
| 16 | Pat Mollins |
---
Coaching & Management
Coaching Staff:
Dan McCullough
Vince Sturgeon
Brent True
Dan Steeves
Brendan Cornford
Equipment Manager:
Trainers:
Hilary Noble
Magen Charters