Dalhousie Tigers
---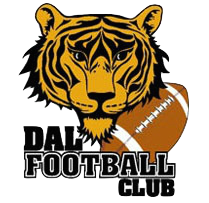 After a 34 year hiatus, football finally returned to Dalhousie University in September 2010.
The Dalhousie Football Club enters the third season of the Atlantic Football League (founded in 2009) and competes against the UNB Fredericton Red Bombers, UNB Saint John Seawolves and Holland College Hurricanes.
This was made possible by the leadership of some keen Dal Alumni, our volunteer coaching staff, the Student Football Club Executive and our players, along with the financial support of our Founders Club and sponsors.
The Dal team is the only team in the AFL that requires all of its players be full-time students.
---
Team Roster
| Number | Name | Position |
| --- | --- | --- |
| 8 | Gullaume Bernier | REC |
| – | Josh Bordage | LB |
| – | Tyler Brothers | OL |
| – | Darcy Chant | REC |
| 2 | Alistair Chauhan | REC |
| 50 | Jack Chiasson | LB |
| – | Tegan Davis | REC |
| – | Ryan Dobbin | DL |
| – | Todd Dow | DB |
| – | Richard Dugdill | DL |
| – | Malcolm Fenech | DB |
| – | Trevor Gardiner | DB |
| 88 | Louis Gauvin | REC |
| 12 | Joe Ghosn | DB |
| 56 | Giovanni Holmes | DL |
| 6 | Nick Hunsley | QB |
| 51 | Casey Jones | OL |
| – | Rami Khashmelmous | OL |
| – | Turner Kinal | DB |
| 33 | Chad Kirkhus | REC |
| – | Eastman Kotio | RB |
| – | Kevin Leach | OL |
| – | Mackenzie Lefebvre | LB |
| 54 | Jesse Legault | OL |
| 7 | Zack Leger | RB |
| 18 | Kenzie MacNeil | DB |
| – | Michael MacNeil | RB |
| – | Christopher Malone | REC |
| – | Connor Manson | DL |
| – | Liam Manson | LB |
| – | Max Martin | OL |
| 39 | Matt McKenney | LB |
| – | Bradley Morgan | OL |
| – | Spencer Muise | REC |
| 55 | Tommy Panther | DL |
| – | Connor Paquette | OL |
| 52 | David Parkhill | DL |
| 24 | Connor Ryan | DB |
| – | Brock Saumure | DB |
| – | Dustin Shreeve | LB |
| – | Justin Smith | FB/OL |
| – | Owen Smith | OL |
| – | Connor Stanhope | DL |
| – | Joshua Thomas | DB |
| 23 | Rob Wilson | DB |
| – | James Young | LB |
| – | Brendan Zwicker | LB |