UNB Fredericton Reds
UNB Red Bombers Secure Homefield for Semi
UNB Red Bombers 14 - Holland College Hurricanes 12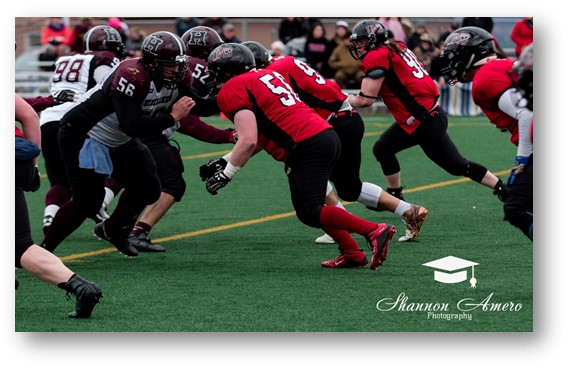 The win today in Charlottetown secured homefield advantage for the UNB Red Bombers (4-2) for the AFL semifinal this Saturday (Oct. 27) in Fredericton against Holland College. Dalhousie Tigers will host the other semi against the UNBSJ Seawolves.
In today's game The Red Bombers played well on both sides of the ball during the first half. The Bombers opened the scoring at about the 5 minute mark of the 1st quarter with a 75 yard pass and scamper in for the TD. In the 2nd quarter the Red Bombers Offense sustained a long drive with QB Greg Brown able to cap it off punching 2 yards through for the TD at about the 10 minute mark. The Red Bombers Defense held the Hurricanes Offense off the board in the first half until deep in their own territory, the Red Bombers O took a knee in the end zone for a safety rather than punt with 2 minutes left in the half, making the score 14-2 for the Bombers at the half.
The 3rd quarter was controlled by the Hurricanes. At about the 7 minute mark of the 3rd the Hurricanes booted a FG to make the score 14-5. The Hurricanes Offense kept moving the ball in the 3rd finishing off with a TD at the 11 minute mark of the 3rd to make the score 14 – 12.
Early in the 4th the Red Bombers overpowering ground game kept the Bombers offense on the field and began to control the clock. With the Red Bombers Defense shutting down the scoring, the game ended 14-12 for the Bombers.
The Red Bombers will host the Hurricanes for the AFL Semifinal on the Fredericton Campus at BMO Centre field this Saturday at 1:00pm.