UNB Fredericton Reds
Red Bombers Add REDS Logo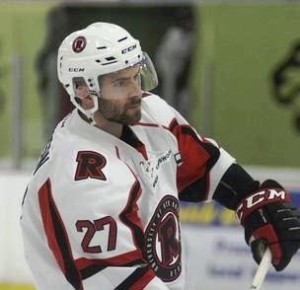 No no, wait, you didn't open the wrong message. This is the UNB Red Bombers' newsletter.
We are only 100 days from the kick-off of the 2019 season and we are excited about getting underway. As we get ready for the Red Bombers Reunion at Homecoming Sept. 28th for the 10th Anniversary of the return to campus, and the 70th Anniversary of the team, we thought we would share some exciting news. News that we believe deserves to have credit and appreciation shown to UNB Athletics for its leadership on campus.
You have probably noticed the new logo on the jerseys and helmets of UNB's varsity teams (as above). UNB Athletics has extended the use of The Reds logo [below] to be a symbol of all UNB Teams, Varsity and Club alike, at the Clubs' option and without the Clubs having to give up their unique identities. We are still the UNB Red Bombers as are for instance, the UNB Ironmen the men's rugby team, but the REDS symbol unites us all as UNB athletes. It has excited athletes across the entire Campus.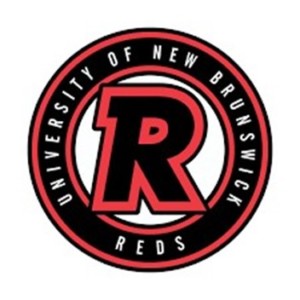 Players from different UNB teams wearing for instance their team golf shirt, hoddie or jacket to class are now all recognized as UNB athletes whether playing for a Varsity Team or a Club Team.
UNB Athletes' crest on players-only SWAG
As with UNB Hockey, we have chosen that the will be the decal on the side of the UNB Red Bombers helmets, and of course our jerseys will still display RED BOMBERS. Our current logo which we adopted in 2015 (seen on the helmet in the photo below L.) will continue to be our football logo used in co-branding opportunities. The Men's Hockey team for instance has begun to use the Red Devils co-branding on occasion (as seen in the photo below R).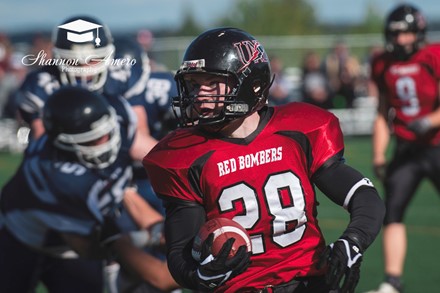 Red Bombers Football has taken its place as an active part of the entire football community in the Capital Region. Over the past 10 years the UNB Red Bombers have raised nearly $50,000 through in-game promotions for the Fredericton Kins Club (formerly Kinsmen), and Women's Football, as well as provided skills-camps for young football players.
Our goal is not just to produce a Saturday afternoon football game, but rather to create a Saturday "Event" for the whole family that includes the game, half-time events, Kick, Punt, and Pass contests, music, lively play by play, etc. Tickets are free to students and kids, and adult admission prices are kept to $5. A family of 4 can enjoy 3 hours of college football, treat everyone to burgers or hotdogs, soft drinks for the kids, and a couple of beers for Mom and Dad, all for under $10 per person.
https://unbredbombers.ca/2019/06/17/red-bombers-add-reds-logo/